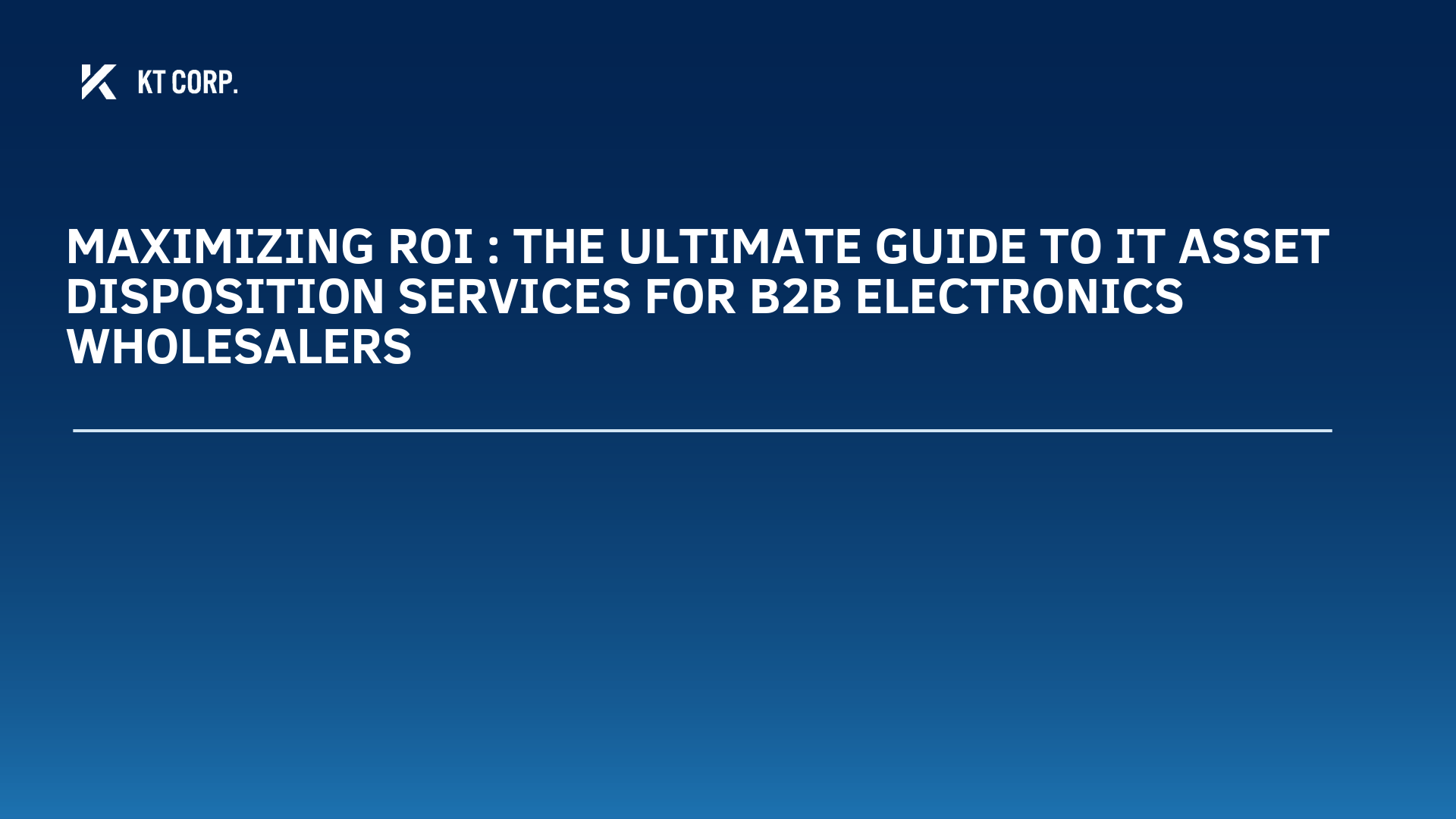 Maximizing ROI: The Ultimate Guide to IT Asset Disposition (ITAD) Services for B2B Electronics Wholesalers
Welcome to KT Corp, your trusted partner in B2B electronics wholesale and IT Asset Disposition (ITAD) services. In the ever-evolving world of technology, as you know, staying ahead is not an easy task, it requires not only embracing the latest innovations but also efficiently managing your obsolete or surplus IT assets. In this comprehensive guide, we'll explore how our ITAD services can help your business thrive while maximizing your return on investment (ROI).
Understanding the Importance of ITAD in Electronics Wholesale
Just like any industry operating in the 21st century, we all know it moves at a  fast-pace and being in the electronics industry, we understand staying competitive means not only delivering cutting-edge products but also effectively managing end-of-life electronics. ITAD plays a pivotal role in responsibly disposing of obsolete equipment and older IT assets, while reducing environmental impact, and recouping value from retired assets. Learn how a strategic ITAD approach can safeguard your brand reputation and contribute to a sustainable business model.
 The Benefits of Partnering with KT Corp
Discover the unique advantages of choosing KT Corp as your Wholesale and ITAD partner. From our industry expertise to our commitment to environmental responsibility, we offer a tailored solution that aligns with the specific needs of B2B electronics wholesalers. Uncover the benefits of our secure data destruction, certified recycling processes, and transparent reporting that ensures compliance with industry regulations.
 Tailored Solutions for B2B Electronics Wholesalers
At KT Corp, we understand that each business is unique. Our ITAD services are customized to meet the distinct requirements of B2B electronics wholesalers. Explore our comprehensive suite of services, including asset tracking, secure data erasure, and certified recycling, designed to streamline the disposition of your IT assets while maximizing your financial returns.
Compliance and Security in ITAD
In the electronics industry, compliance and security are non-negotiable. Learn how KT Corp ensures adherence to data protection laws, environmental regulations, and industry standards. Our robust security protocols and certified processes guarantee the safe handling and disposal of your IT assets, giving you peace of mind and protecting your business from potential liabilities. Our Secure Data Erasure Solutions involve using specialized software tools and techniques to overwrite, erase, or destroy data, rendering it unreadable and unrecoverable.
 Achieving Sustainable Business Practices
As a responsible B2B electronics wholesaler, sustainability is a key aspect of your business strategy. Discover how our ITAD services contribute to your environmental goals by promoting the reuse and recycling of electronic components. Learn about our eco-friendly practices that not only benefit the planet but also enhance your corporate social responsibility (CSR) initiatives.
Conclusion:
In the dynamic landscape of B2B electronics wholesale, partnering with KT Corp for ITAD services is not just a choice; it's a strategic investment. Secure your business against risks, comply with regulations, and contribute to a sustainable future while maximizing the ROI of your IT assets. Contact us today to explore how we can tailor our ITAD solutions to elevate your business to new heights.